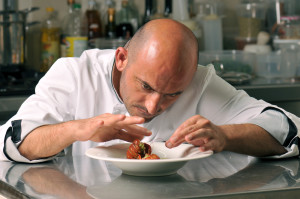 DineLA Restaurant Week Is Just Around The Corner
I love eating out in Los Angeles! There are so many great restaurants to try, but I often find myself going back to my old favorites. Fortunately for me and those of you similarly faithful foodies, there is an upcoming event that can get us out of our habits.
DineLA Restaurant Week 2015 runs from July 13th to July 26th. During these couple weeks, we all have the chance to check out prix fixe menus from restaurants all over the city. With great prices (menus are $15, $20, or $25 at lunch and $30, $40, or $50 at dinner) at standout restaurants all over Los Angeles, DineLA Restaurant Week is the perfect chance for us to forego our favorites and check out a new dining experience (or a dozen). Who knows, we might just find a new favorite!
DineLA Restaurant Week has something for everyone. Mediterranean, French, Italian, Mexican, Indian, American, Vietnamese, Spanish, Thai, Brazilian, Peruvian, Asian Fusion, and more are all on the menu for this dining experience, which means you can find something for the pickiest eater and the most adventurous palate. Travel the world as you travel across our great foodie-friendly city trying new restaurants during these two weeks!
You can find a full list of the hundreds (yes, hundreds!) of restaurants who are participating in DineLA Restaurant Week, their locations, their pricing, and more information here. Have a great time exploring new restaurants and new flavors!
I hope you have a great time checking out DineLA Restaurant Week; I know I will! If you want to be closer to all of the delicious action, contact Betsy Dittman. I am a Los Angeles real estate expert and am passionate about helping you find the right home to suit your lifestyle. Stop living in a lackluster area and call me today!