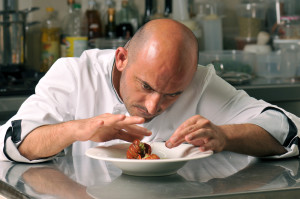 Must-Hit Restaurants This Summer
The summer is in full swing, and on top of the warmer weather and longer days it also brings an energy to get out and do more! If you and your friends are looking to spice up your summer, you might be thinking of dining at some new restaurants. I know from experience, though, that there are so many options in LA finding the right restaurant can feel daunting! To help, here are a few of my recommendations for can't-miss dining during summer 2015.
Sushi Nishi Ya: Want to get a deliciously fresh bite to eat? Why not try this relatively hidden Omakase (chef's choice) gem? Chef Nisi crafts tasteful, tasty sushi that is as beautiful as it is delicious. This place is sure to only get busier as word about it spreads, so head there now! 1712 Victory Boulevard, Glendale │(818) 244-2933
Guerrilla Tacos: Tacos are a California favorite, but Chef Avila is putting his own global twist on them at Guerrilla Tacos. Incorporating interesting elements like black truffles, whole sardines, foie gras, and lots of farmer's market finds, I am never disappointed by the fresh flavor from this food truck. Locations Vary │(818) 640-3033
Trois Mec: Chef Lefebvre is already famous, but Trois Mec secures his place as a master in the world of fine dining. You will not want to miss his handcrafted, internationally-inspired menus so make sure to get your ticket (yes, you read that right; you need a ticket to dine at Trois Mec) here. 716 Highland Avenue, Los Angeles │No phone number available
There is so much great dining in Los Angeles, if you are living too far from it you are missing out! Fortunately, by working with a California real estate expert you can find the perfect home close to all of the action. To learn more about finding the right home for your lifestyle, contact Betsy Dittman. I am here to learn about you and show you houses that will meet not just your needs, but also your wants!
Al fresco dining is the perfect way to enjoy the beautiful summer weather in Los Angeles. While there are many places that offer the complete al fresco dining experience, some of the 2014 exciting places in Los Angeles should not be missed. Make sure to keep these delicious restaurants in mind for your next meal in the area.
A-Frame in Culver City blends both Hawaiian and Asian cuisine. Roy Choi, the owner of the restaurant, was inspired by picnic dining, which inspired him to create dishes that are finger friendly. The menu items are much more decadent that what you would find at a typical picnic, including items such as swordfish tacos, hoisin ribs, and the famous double-patty burger.
Connie and Ted's Seafood in West Hollywood has an impressive patio dining area that overlooks Santa Monica Blvd. The fresh seafood options will transport you to culinary heaven and the sandy beaches of the Pacific.
Goldie's in Los Angeles offers every market-driven dish all day long, offering plates for breakfast, lunch, and dinner. Along with the great cocktails that are served, you will find everything on the menu from hand cut tagliatelle with Dungeness crab to diver scallops with kohlrabi.
Little Next Door in Los Angeles on West Third Street is the perfect French bistro that will transport you to Paris. The restaurant is a little more causal than Next Door, while still offering the best French dishes, including escargot, charcuterie, and moules frites.
 The Polo Lounge at The Beverly Hills Hotel is the best spot in the city if you are looking for the ultimate place to see and to be seen. The restaurant has been newly renovated, combining the classic Polo Lounge feel with a new, modern, updated look.
For all of your luxury real estate needs from the Conejo Valley to Beverly Hills, contact Betsy Dittman. I specialize in California luxury real estate properties and can help you with the sale or purchase of your home.