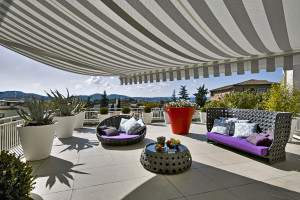 Summer Does Not Bring The Only Outdoor Heat
In Southern California, we get the luxury of using our outdoor spaces all year round. Consequently, it is no surprise that outdoor living is becoming something of an art. To help you make the most of your outdoor space, here are some trends you may want to consider utilizing to boost your own outdoor area.
Stamped Concrete: If you are hoping to do some major hardscaping in your yard without the major expense of stonework, concrete can offer you a solution. You can stain and stamp concrete to mimic the look of more expensive stone, giving your yard a high-end look.
Outdoor Kitchen: You may think that an outdoor kitchen is pretty much just a grill, but these days you can bring all of the fun of cooking into the fresh air. Refrigerators, warming drawers, beer taps, sinks, smokers, and more are now available in outdoor versions.
Water Features: In busy Los Angeles, a water feature can be your solution to drowning out the sound of traffic and creating a more zen space in your yard. They are a trending request for landscapers right now, and have been increasing in popularity for years.
Edible Gardening: Growing your own food is not just trendy, it is also convenient and healthy. Grow tomatoes, chard, asparagus, raspberry bushes, and chili peppers to bring color and beauty to your garden and flavor to your table.
If you are on the hunt for real estate with an on-point, trending outdoor space, contact Betsy Dittman. I am keeping up to date on the hottest trends and the hottest Los Angeles properties so I can help you find the perfect home with the perfect outdoor space. I know how important it is to have an outdoor area to entertain and enjoy the great weather we have. Call me today!