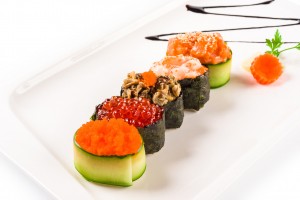 The Best Local Places For This Japanese Cuisine
One of the best parts of living in or near Los Angeles is our access to some of the finest dining not only in the country, but also in the world. Our plethora of restaurant options is further bolstered by our proximity to the sea, giving us access to the best, freshest seafood. So you can fully take advantage of all the area has to offer, do not miss the top three local sushi restaurants, according to LA Weekly.
Urusawa: Urusawa promises an experience as delightful and luxurious as the plates it serves. Offering only the freshest, most beautiful (and often most rare) specialties, Hiro Urusawa learned his art from Masa Takayama, generally known to be the best sushi chef in the United States. While Takayama has left for the East Coast, Urusawa stays local to wow us with his sushi and his restaurant. 218 N. Rodeo Drive, Beverly Hills • (310) 247-8939
Kiriko Sushi: Ken Namba, Kiriko's chef, has mastered the traditional art of sushi while giving it his own personal touch. Namba prepares for the entire restaurant yet manages to do it all with an air of calm that is contagious. Step into the mahogany sushi bar to experience a meal, and an evening, you will not soon forget. 11301 W. Olympic Boulevard, Los Angeles • (310) 478-7769
Mori Sushi: Since so much of sushi's flavor needs to be delicately drawn out by the best chefs, when Morihiro Onodera retired from Mori a year ago many expected his assistant chef to deliver a lower quality product. Fortunately, Mori and its meticulous in-house creation of everything from green tea ice cream to soy sauce to flatware have been perfectly maintained. 1500 W. Pico Boulevard, Los Angeles • (310) 479-3939
Do you have a real estate agent who is guiding you towards the best luxury real estate close to the finest restaurants in Los Angeles and Conejo Valley? For your guide to the best sushi and best homes in Southern California, contact Betsy Dittman today. I look forward to helping you find your dream home in 2015.