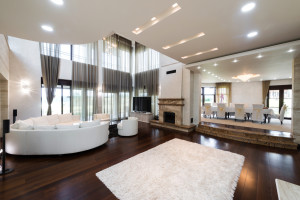 Try Out These Luxury Home Design Trends
Trends, well, trend for a reason. Something becomes popular because people like it, get excited about it, and tell their friends (or followers, in this day and age). As popularity spikes, the trend gets more attention. Sometimes trends are fleeting, but others make a lasting impact. Fortunately, my years of real estate experience make it easy for me to see which trends will matter in the long-term. To help you capitalize on the right luxury trends, here are a few design items I want to highlight.
Superb Showers: A Jacuzzi tub might seem like a great idea but honestly, who has time for a long soak in the tub? Fortunately, you can give your body the chance to release its tension with a luxury shower that skips all the hassle of a bath. Steam showers are a particular favorite of mine.
Poolside Pits: In the warm summer evenings, taking a dip in your pool will feel refreshing and fun. That is, until you have to get out of the water into the crisp night air! If you install a poolside fire pit, you have the perfect place to dry off and snuggle up. As a bonus, the fire pit will get plenty of use in the winter, too!
Wine Wind Down: Wine cellars are wonderful, but why not expand yours to get more use of it? By adding a comfortable seating area to your wine cellar, you create a tasting room perfect for hosting small parties or just enjoy a glass in peace.
Do all of these trends sound too good to be true? They are not! Let me show you what luxury living in Los Angeles looks like; contact Betsy Dittman today. I can help you find a home so perfect you will think you are living at a resort!