Want to live in the lap of luxury? You can, at these Los Angeles, CA hotels!
As a luxury real estate agent in Southern California, I get a lot of lifestyle questions. One of my favorite to answer is, "What's your favorite hotel?" Here are just a few gems that I think really make the most of our great location and offer the best in luxury!
W Los Angeles-West Beverly Hills
W Hotels are known for blending luxury with an energetic lifestyle, and their recently completed renovation of their Beverly Hills property is making it even easier for them to do that. From their newly restyled Living Room & Bar to their Extreme Wow Suite, which features a 10-person screening room covered in gold tufted leather, there's plenty to do at the hotel itself, not to mention nearby Beverly Hills, Bel Air, beaches, and Sunset Strip.
Soak up the rays at the 26th floor rooftop pool, slough off your stress at the memorable The Ritz-Carlton Spa, Los Angeles, and grab a bite to eat at WP24 by Wolfgang Puck. The Ritz can fill your day with indulgence without ever having to set foot outside its property – though if you do, you'll be in the heart of downtown LA.
Blending the relaxation of stunning views of the Pacific with the glamour of high-end Southern California living, Casa Del Mar is definitely an iconic getaway destination. Plus, they offer yoga lessons on the sand, an in-house raw bar, and a wellness spa, all aimed at helping you leave them feeling rejuvenated.
Staying at any one of those hotels will give you a taste of luxury living, and might just leave your hungering for more. Fortunately, as an expert in luxury home sales in Los Angeles, Beverly Hills, and Conejo Valley, I can help you enjoy a lavish lifestyle every single day! To learn more about buying your dream home, contact me, Betsy Dittman.
The demand for luxury properties, particularly in the Los Angeles area, is increasing.
In the second quarter of 2015, Los Angeles saw an 8.6 percent increase in the number of luxury single- family home sales when compared to last year. In addition, the prices are surpassing the levels reached before the last housing market burst.
High demand areas such as Santa Monica, Beverly Hills, and Pacific Palisades are experiencing record prices. The luxury median price of  a single-family home in those areas has climbed to over $5.9 million. This represents an increase of 13.7 percent over the median price from the same quarter of 2014. Many believe this is due to a strong economic outlook.
Extra care is being taken when selling to this sophisticated and determined group of potential buyers. Foreign luxury buyers are becoming increasingly more likely to purchase a property based on what they read online and U.S property  is looking more like a "safe haven" for their money as well as a highly coveted place for vacation or relocation.
Vacation home sales represented 21 percent of all home purchases in the U.S last year, and Los Angeles home sales do not seem to be decreasing any time soon. Find your dream home with real estate expert, Betsy Dittman. I have experience working with buyers and sellers throughout the Greater Los Angeles, San Fernando Valley, Malibu, and  Conejo Valley areas. Contact me today to help you reach your real estate goals.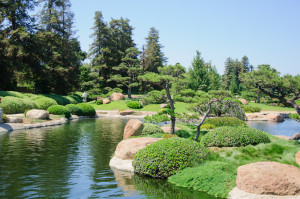 Find Your Rest At These Local Gardens
In the hustle and bustle of Los Angeles, you may find yourself craving just a moment of respite. Where do you go to find it, though? Work is busy, home always requires something of you, and your favorite hangouts are always filled with social activity. Is there not an oasis to which you can slip away?
Fortunately, there is! Los Angeles offers some stunning botanical gardens. Here are just a few.
If your perfect home puts you close to relaxing, interesting local attractions like this, contact Betsy Dittman. I am an expert in luxury Los Angeles real estate and the nearby hidden gems so you can find your dream home to support your dream lifestyle. To work with an expert in luxury home sales and buys in Los Angeles and Conejo Valley, call me today!
The holiday season is here, which means it is time to get ready for all of your holiday parties. While you may not get blankets of white snow at your Southern California home, it does not mean that you cannot create a winter wonderland party for your loved ones. Keep these tips in mind to ensure that your holiday party is one to remember!
Be realistic – accept your strengths and weaknesses as a host, and play up your strengths while outsourcing your weaknesses. Keep in mind that the goal of your party is to create a stress free event that everyone will enjoy.
Ask for help – people go to holiday parties to enjoy the company of their friends and family. If people are showing up and you are not completely done setting up, ask for help! Most partygoers are more than happy to help pour wine and light candles.
Set the scene – make sure your bar is stocked with all the essentials, including cocktail tools, glasses, ice, and tongs. Set your table with enough flatware and silverware for each guest, and make sure to have some spares ready just in case. Candles, floral arrangements, and light music will all also help to set the mood!
Stock your pantry – especially if children will be attending your event, make sure that your pantry is filled with snacks.
Provide entertainment – there are many ways to entertain your guests while you are getting ready. Set up a game area with board games for people of all ages to enjoy. A roll of butcher paper and crayons will keep children entertained until it is time to eat.
Having the right home to entertain this season will ensure good times and great memories! Contact Betsy Dittman for all of your luxury home sales in the Los Angeles and Conejo Valley!
During the past year, more and more overseas buyers have invested in the United States housing market. They accounted for $92 billion worth of home purchases, which is up 35 percent over last year .It is also the most amount ever that foreign buyers have spent in the U.S. real estate market.
While people from all over the world are buying property in America, Chinese buyers are leading the trend with almost one-fourth of all home purchases. They are focusing their real estate buying in Southern California with Los Angeles being the top destination for real estate searches coming from China, followed by San Francisco and Irvine. According to the National Association of Realtors, more than half of the $22 billion Chinese buyers spent on U.S. homes during the 12 months ended in March was spent in California, Washington and New York.
Many of the Chinese families that are purchasing real estate in the United States are doing so to enable their children to attend California universities and even high schools that are in some of the top districts. Another reason is that Chinese buyers see it as a smarter investment as opposed to the inflated values of  real estate in China.  California is particularly attractive because it is so close to the homeland and many cities have significant Chinese-American populations in addition to the attractive climate.
This huge influx of Chinese buyers is helping to drive the cost of real estate in California to pre-recession levels.
For all of your real estate needs, contact Betsy Dittman. I can help make sure that you find the best real estate property that fits all of the needs and your lifestyle.  From Beverly Hills to Calabasas to the Conejo Valley, Betsy has your real estate needs covered.