Social Links Widget
Click here to edit the Social Media Links settings. This text will not be visible on the front end.
Where To Head To Play In The (Clean) Sand
Some things are timeless. Heading to the beach to soak up the summer is one of those things. We are as likely to want to spend a beach day in 2015 as we were 50 years ago, but the problem is that some beaches have degraded over the decades. If you are like me, you really hate having to scrub the tar off your feet after what should have been a beautiful day at the beach. To avoid that and other bad beach woes, here is a list of the best beaches in Los Angeles.
For The Whole Family: Santa Monica Beach is one of the most iconic beaches in the country – and for good reason. This two mile long beach offers plenty of space for laying out on the sand, but you can also take a stroll down the pier and ride the Ferris wheel for a different take on the beach day.
For The Surfer: Surfrider Beach is aptly named. With beautifully curling waves, this is the perfect place to head when you are itching for a ride. Put a new coat of wax on your board and hit this beach to enjoy the California sun surf-style.
For The Traveler: Beautifully situated in Malibu, Leo Carrillo State Park presents the perfect setting for a weekend getaway. Comb the beach, check out the tide pools, explore a beach cave, or just enjoy the crashing waves at this scenic setup.
Living by the beach might sound like a luxury to people living in landlocked states, but that is a dream you can easily realize in Los Angeles – if you work with the right real estate agent. To talk to an expert, contact Betsy Dittman. I want to help you find the perfect home by the perfect beach and have the expertise and experience to do just that!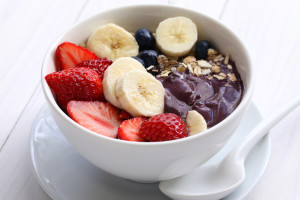 These Healthy Eateries Are Perfect On A Beach Day
Whether you prefer to pass your beach days in Santa Monica, Malibu, or Venice, there is nothing worse than going out for a greasy lunch only to have to take off your cover-up at the beach right after. Here are a few great pre-beach options right along the ocean that will fill you up (not fill you out) with healthy food, best preparing you to enjoy a day on the sand.
Seed Kitchen (Venice): Seed is famous for its macrobiotique, raw, organic food, but that does not mean they skimp on flavor. Perhaps surprisingly, their burger is one of their most popular menu items. This vegan restaurant puts a spin on a classic with options like a blackened tempeh burger with mango salsa or a bean and grain burger with ancho chili spread. 1604 Pacific Ave, Venice │(310) 396-1604
True Food Kitchen (Santa Monica): Whether you dine vegan, vegetarian, and gluten-free, True Food will have something for you. They have gluten-free pizzas, an inside out quinoa burger, super fresh cocktails, and non-alcoholic libations packed with nutrients. 395 Santa Monica Place, Santa Monica │(310) 593-8300
Urth Caffé (Santa Monica): Farm fresh, locally sourced ingredients are the staple of every dish at Urth. With a standout weekend brunch and fresh roasted whole bean organic coffee, this is a great spot to kick off your Saturday or Sunday. 2327 Main Street, Santa Monica │(310) 314-7040
If you are looking to get closer to the water or closer to the best eateries in Los Angeles and Beverly Hills, contact Betsy Dittman. I have the insider's scoop on the best areas for food and recreation and am here to help you find the ideal real estate to meet your space, design, and lifestyle needs. To get a luxury real estate expert on your side in 2015 and beyond, call me today!