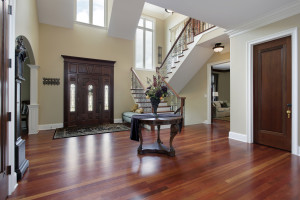 Make Sure Your Home Gives The Right First Impression With Entryway Design
First impressions are everything. From first dates to job interviews, you have learned the deep value of making sure how people feel about you upon first meeting is positive. First impressions are equally valuable for houses (hello, curb appeal!). That is why your entryway, while small, deserves to have great design. Here are a few tips.
Mirror It: Odds are your entryway is not the biggest space, but it can make a big impact if you add a mirror. Not only will hanging a mirror in your entryway open up the space, making it feel larger, it will also afford you the perfect place to do a last minute check of your look before heading out the door.
Store Shoes: Unless your family is extremely tidy, odds are high shoes get left by the front door all the time. Keep this from being an eyesore (and tripping hazard) by adding in a shoe storage unit.
Hang Coats: In a similar vein, coat hooks can keep your entryway looking organized so your décor can shine. They do not have to be purely functional, though; you can create a unique, aesthetically appealing coat hook system.
Accessorize: Alright, that is enough with functionality. Let's get to the fun! Find jaw-dropping artwork that will introduce people to the décor in your home and make a statement about you and your house.
2015 is your year to get into your dream home, one that will offer a great first impression and keep you happy for years to come. For the perfect house for your unique needs, contact Betsy Dittman. Serving Beverly Hills and Los Angeles, I have cultivated my expertise in California luxury real estate properties and will tap it to help you find the perfect house.