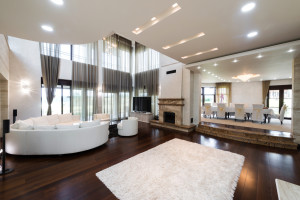 Try Out These Luxury Home Design Trends
Trends, well, trend for a reason. Something becomes popular because people like it, get excited about it, and tell their friends (or followers, in this day and age). As popularity spikes, the trend gets more attention. Sometimes trends are fleeting, but others make a lasting impact. Fortunately, my years of real estate experience make it easy for me to see which trends will matter in the long-term. To help you capitalize on the right luxury trends, here are a few design items I want to highlight.
Superb Showers: A Jacuzzi tub might seem like a great idea but honestly, who has time for a long soak in the tub? Fortunately, you can give your body the chance to release its tension with a luxury shower that skips all the hassle of a bath. Steam showers are a particular favorite of mine.
Poolside Pits: In the warm summer evenings, taking a dip in your pool will feel refreshing and fun. That is, until you have to get out of the water into the crisp night air! If you install a poolside fire pit, you have the perfect place to dry off and snuggle up. As a bonus, the fire pit will get plenty of use in the winter, too!
Wine Wind Down: Wine cellars are wonderful, but why not expand yours to get more use of it? By adding a comfortable seating area to your wine cellar, you create a tasting room perfect for hosting small parties or just enjoy a glass in peace.
Do all of these trends sound too good to be true? They are not! Let me show you what luxury living in Los Angeles looks like; contact Betsy Dittman today. I can help you find a home so perfect you will think you are living at a resort!
Where To Focus Your Energy When Renovating Your Home
If the spring season has you in the mood for a fresh start, remodeling your home will freshen it up and increase your home's value. Where, exactly, should you turn to make the most of your efforts? Here are the top trends for home remodeling in 2015.
Soaking Tubs: The bathroom is a great place to start your remodel, as updated tile work and cabinetry is trending. Most importantly, though, consider getting away from the standard tub/shower combo. Larger soaking tubs are rising in popularity, especially free standing models. Bigger showers are more popular, too; consider putting in a walk-in shower.
Gray: Beige is no longer the go-to neutral color. Gray is on the rise, and do not be afraid of darker colors. Charcoal is a great neutral color that will make a big impact. Since any accent color can pair beautifully with gray, it is a safe bet in any room in the house.
Sinks: After years of doing dishes, you are probably ready to make the process easier. Super deep single-bowl sinks are trending, making the after-dinner chore a little bit easier on all of us.
Wellness: Fortunately, our awareness about the toxic chemicals and gases in our building materials is on the rise. It is becoming increasingly popular to get rid of cabinets containing formaldehyde and off-gassing finishes so your homes can be as healthy as possible.
If no remodel would be enough to make you happy in your home, contact Betsy Dittman. I have the insider insight into the best real estate in Beverly Hills and Los Angeles and am here to help you find your dream home so you can skip all of the hassle of remodeling. To find a home utilizing the hottest trends that will stay popular in the long-term, call me today.