Al fresco dining is the perfect way to enjoy the beautiful summer weather in Los Angeles. While there are many places that offer the complete al fresco dining experience, some of the 2014 exciting places in Los Angeles should not be missed. Make sure to keep these delicious restaurants in mind for your next meal in the area.
A-Frame in Culver City blends both Hawaiian and Asian cuisine. Roy Choi, the owner of the restaurant, was inspired by picnic dining, which inspired him to create dishes that are finger friendly. The menu items are much more decadent that what you would find at a typical picnic, including items such as swordfish tacos, hoisin ribs, and the famous double-patty burger.
Connie and Ted's Seafood in West Hollywood has an impressive patio dining area that overlooks Santa Monica Blvd. The fresh seafood options will transport you to culinary heaven and the sandy beaches of the Pacific.
Goldie's in Los Angeles offers every market-driven dish all day long, offering plates for breakfast, lunch, and dinner. Along with the great cocktails that are served, you will find everything on the menu from hand cut tagliatelle with Dungeness crab to diver scallops with kohlrabi.
Little Next Door in Los Angeles on West Third Street is the perfect French bistro that will transport you to Paris. The restaurant is a little more causal than Next Door, while still offering the best French dishes, including escargot, charcuterie, and moules frites.
 The Polo Lounge at The Beverly Hills Hotel is the best spot in the city if you are looking for the ultimate place to see and to be seen. The restaurant has been newly renovated, combining the classic Polo Lounge feel with a new, modern, updated look.
For all of your luxury real estate needs from the Conejo Valley to Beverly Hills, contact Betsy Dittman. I specialize in California luxury real estate properties and can help you with the sale or purchase of your home.
Preparing your finances for the down payment on your next home can be the most stressful and cumbersome part of the home buying process. While most home buyers believe that they need to put down at least 15 percent of the total cost of the home this is not always the case.
The belief among 28 percent of prospective home buyers that they need to come up with such as large down payment to qualify for a mortgage is a misconception.Many home buyers can qualify for a conforming, conventional mortgage with a down payment  of only five percent and even as low as three percent of the total home price. The number of Freddie Mac's purchases of mortgages that had down payments of less than 10 percent more than quadrupled between 2009 and 2013. More than one in five borrowers so far in 2014 put less than 10 percent or less down on conforming, conventional mortgages.
As a result, more and more people are now able to qualify for a home loan. Qualifying for a home loan with a low down payment does depend on many other factors, including a home buyer's credit history. A new survey by credit score company FICO asked credit-risk managers what the single most important factor is in a loan application. Surprisingly, it was not a buyer's credit scores. The key factor is the Debt-to-Income ratio. DTI's are the most direct indication to a bank or financial institution about whether a buyer is able to afford to repay the loan. It is also important to remember that any home buyer that puts down less than 20 percent will be required to purchase mortgage insurance.
For all of your luxury real estate needs in the Los Angeles, Beverly Hills, Calabasas and the Conejo Valley areas, contact Betsy Dittman. As a Coldwell  Banker agent  specializing in California luxury real estate properties, I can help you find your next home that will meet all of your needs, no matter your budget or down payment.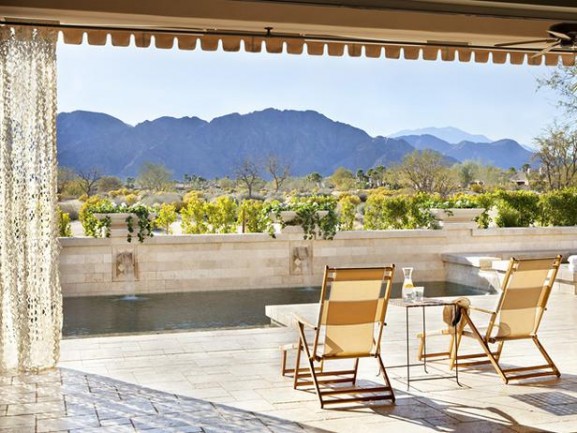 Decks and patios are a great way to expand the living area of your home while being able to enjoy the outdoors. The design of the deck or patio is completely up to you, leaving space to add all of the comforts of the indoors, such as a lounge area complete with a TV to watch the games or to have a simple relaxing area with just a hammock and table for your ice tea. The most important part of the deck or patio is always the view. Here are a few examples of spectacular decks and patios to keep in mind when looking for inspiration for your new outdoor space.
This deck in La Quinta, California offers unobstructed views of the beautiful desert landscape. As one of the top vacation destinations in California, La Quinta has something to offer for everyone. Having a deck as beautiful and simple as this one will allow you to enjoy all of the beautiful landscape that the area has to offer.
This patio in Park City, Utah allows you to get up close and personal with nature. The fire pit is the perfect accessory to keep you warm after enjoying the many ski resorts in the area.  A patio is the best place to relax after a long day and enjoy the sunset given the mild temperatures in the summer.
The glass wall around this deck in Penticton, Canada allows for all encompassing views of the surrounding lakes. With seasonal temperatures most of the year, this deck offers a beautiful spot to enjoy the scenery with your friends and loved ones.
There is no better way to enjoy the gorgeous weather in Cabo San Lucas, Mexico than sitting on an open deck such as this one. This deck offers a grill and plenty of seating to entertain all of your friends and family.
This spacious deck in Los Angeles, California features a beautiful skyline of the city. The warm temperatures and low humidity make this the perfect balcony to enjoy all year long!   The glass wall makes this deck the perfect entertaining area for any gatherings.
For all of your luxury real estate needs from Beverly Hills to Calabasas, contact Betsy Dittman. As a luxury real estate agent, I can help you successfully sell or purchase your home.
All images of the perfect decks and patios were provided by HGTV.
During the past year, more and more overseas buyers have invested in the United States housing market. They accounted for $92 billion worth of home purchases, which is up 35 percent over last year .It is also the most amount ever that foreign buyers have spent in the U.S. real estate market.
While people from all over the world are buying property in America, Chinese buyers are leading the trend with almost one-fourth of all home purchases. They are focusing their real estate buying in Southern California with Los Angeles being the top destination for real estate searches coming from China, followed by San Francisco and Irvine. According to the National Association of Realtors, more than half of the $22 billion Chinese buyers spent on U.S. homes during the 12 months ended in March was spent in California, Washington and New York.
Many of the Chinese families that are purchasing real estate in the United States are doing so to enable their children to attend California universities and even high schools that are in some of the top districts. Another reason is that Chinese buyers see it as a smarter investment as opposed to the inflated values of  real estate in China.  California is particularly attractive because it is so close to the homeland and many cities have significant Chinese-American populations in addition to the attractive climate.
This huge influx of Chinese buyers is helping to drive the cost of real estate in California to pre-recession levels.
For all of your real estate needs, contact Betsy Dittman. I can help make sure that you find the best real estate property that fits all of the needs and your lifestyle.  From Beverly Hills to Calabasas to the Conejo Valley, Betsy has your real estate needs covered.