Want to live in the lap of luxury? You can, at these Los Angeles, CA hotels!
As a luxury real estate agent in Southern California, I get a lot of lifestyle questions. One of my favorite to answer is, "What's your favorite hotel?" Here are just a few gems that I think really make the most of our great location and offer the best in luxury!
W Los Angeles-West Beverly Hills
W Hotels are known for blending luxury with an energetic lifestyle, and their recently completed renovation of their Beverly Hills property is making it even easier for them to do that. From their newly restyled Living Room & Bar to their Extreme Wow Suite, which features a 10-person screening room covered in gold tufted leather, there's plenty to do at the hotel itself, not to mention nearby Beverly Hills, Bel Air, beaches, and Sunset Strip.
Soak up the rays at the 26th floor rooftop pool, slough off your stress at the memorable The Ritz-Carlton Spa, Los Angeles, and grab a bite to eat at WP24 by Wolfgang Puck. The Ritz can fill your day with indulgence without ever having to set foot outside its property – though if you do, you'll be in the heart of downtown LA.
Blending the relaxation of stunning views of the Pacific with the glamour of high-end Southern California living, Casa Del Mar is definitely an iconic getaway destination. Plus, they offer yoga lessons on the sand, an in-house raw bar, and a wellness spa, all aimed at helping you leave them feeling rejuvenated.
Staying at any one of those hotels will give you a taste of luxury living, and might just leave your hungering for more. Fortunately, as an expert in luxury home sales in Los Angeles, Beverly Hills, and Conejo Valley, I can help you enjoy a lavish lifestyle every single day! To learn more about buying your dream home, contact me, Betsy Dittman.
These are a few good reasons to refinance your mortgage.  
Your mortgage is probably one of your biggest monthly expenses, so refinancing is tempting. It could help you save money each month, get a lower interest rate to save over the life of your loan, and free up money for other, more fun pursuits. Not everyone should refinance, though. Should you?
There are a few great reasons for working on your mortgage. Here's my mortgage advice on when you should refinance.
You can get a lower rate. Keep in mind that when you refinance, you'll have to pay closing costs all over again. It's worth it to take those on if you can save 2 percent on your interest rate. Talk to your lender and see how much you could shave off your rate before you commit to refinancing.
You can slash your loan life. Even if you can't minimize your monthly payment, shortening the duration of your loan is well worth it. Just think, if you could be free of your mortgage payments in 10 years instead of 12, that gives you two extra years of cash to put towards home improvements, retirement, or fun!
You need to pull our equity. If you have debts other than your mortgage that are weighing on your family, refinancing can be a great way to free up the equity you've built in your home to pay off those outstanding amounts.
Instead of working on your mortgage, you could simply sell your house and buy another one that better suits you. To learn how selling your Los Angeles, Santa Monica, San Fernando or Conejo Valley, or Beverly Hills home could help you get into the right house with the right mortgage, contact me, Betsy Dittman. As a real estate expert, I'm more than happy to offer my advice to you.
The demand for luxury properties, particularly in the Los Angeles area, is increasing.
In the second quarter of 2015, Los Angeles saw an 8.6 percent increase in the number of luxury single- family home sales when compared to last year. In addition, the prices are surpassing the levels reached before the last housing market burst.
High demand areas such as Santa Monica, Beverly Hills, and Pacific Palisades are experiencing record prices. The luxury median price of  a single-family home in those areas has climbed to over $5.9 million. This represents an increase of 13.7 percent over the median price from the same quarter of 2014. Many believe this is due to a strong economic outlook.
Extra care is being taken when selling to this sophisticated and determined group of potential buyers. Foreign luxury buyers are becoming increasingly more likely to purchase a property based on what they read online and U.S property  is looking more like a "safe haven" for their money as well as a highly coveted place for vacation or relocation.
Vacation home sales represented 21 percent of all home purchases in the U.S last year, and Los Angeles home sales do not seem to be decreasing any time soon. Find your dream home with real estate expert, Betsy Dittman. I have experience working with buyers and sellers throughout the Greater Los Angeles, San Fernando Valley, Malibu, and  Conejo Valley areas. Contact me today to help you reach your real estate goals.
Some trends point towards a buyer's market heading our way.
There's no doubt that we've been experiencing a seller's market. As low mortgage rates and skyrocketing rent costs drive more and more Americans to buy homes even as the national housing inventory has stayed relatively tight, sellers have had the opportunity to sell their homes quickly, and for a notable profit.
The tides could be changing, though. Trulia recently calculated how long it takes for homes to sell and found that 63 percent of homes listed early in the summer were still on the market two months later. This is an increase over the 61 percent last summer posted.
What does this mean? It could hint that the market is slowing down, which would be great news for would-be homeowners who've been scrambling to get into homes in the face of competition from other buyers.
Ultimately, the fact that some homes are lingering on the market doesn't necessarily mean that all buyers will have an easier time, though. Specifically, California buyers can still expect a fast-paced market since the Golden State boasts 5 of the top 10 fastest housing markets. That doesn't mean that we won't see a gradual shift towards a buyer's market, but it does mean it could take a little longer for it to reach our particular portion of the West Coast.
Whether you're buying or selling in the local market, it's important that you have an ally on your side to make sure you make the most of your real estate process. For expert insight into local luxury real estate and top-tier service, contact me, Betsy Dittman. I'm dedicated to helping homebuyers and sellers in Beverly Hills and Los Angeles bring their real estate dreams to life in 2015.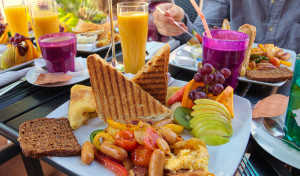 Have You Hit These Essential LA Restaurants Yet?
Is it just me, or is brunch the perfect way to round out a weekend? Restaurants have started pulling out all of the stops for their brunch menus, and have not disappointed. With all of the options for brunch in Los Angeles, it can be a bit tricky to narrow it down. To help, here are the top ten must-taste brunch spots of 2015.
Where is your favorite brunch spot? To find your ideal home near it, contact Betsy Dittman. As an expert in California luxury real estate properties, I have the inside connections to help you find your dream home in Los Angeles or Beverly Hills. For all of your real estate needs, call me today!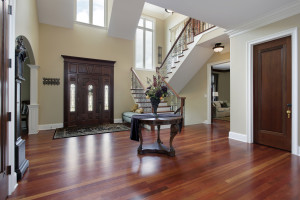 Make Sure Your Home Gives The Right First Impression With Entryway Design
First impressions are everything. From first dates to job interviews, you have learned the deep value of making sure how people feel about you upon first meeting is positive. First impressions are equally valuable for houses (hello, curb appeal!). That is why your entryway, while small, deserves to have great design. Here are a few tips.
Mirror It: Odds are your entryway is not the biggest space, but it can make a big impact if you add a mirror. Not only will hanging a mirror in your entryway open up the space, making it feel larger, it will also afford you the perfect place to do a last minute check of your look before heading out the door.
Store Shoes: Unless your family is extremely tidy, odds are high shoes get left by the front door all the time. Keep this from being an eyesore (and tripping hazard) by adding in a shoe storage unit.
Hang Coats: In a similar vein, coat hooks can keep your entryway looking organized so your décor can shine. They do not have to be purely functional, though; you can create a unique, aesthetically appealing coat hook system.
Accessorize: Alright, that is enough with functionality. Let's get to the fun! Find jaw-dropping artwork that will introduce people to the décor in your home and make a statement about you and your house.
2015 is your year to get into your dream home, one that will offer a great first impression and keep you happy for years to come. For the perfect house for your unique needs, contact Betsy Dittman. Serving Beverly Hills and Los Angeles, I have cultivated my expertise in California luxury real estate properties and will tap it to help you find the perfect house.
Where To Focus Your Energy When Renovating Your Home
If the spring season has you in the mood for a fresh start, remodeling your home will freshen it up and increase your home's value. Where, exactly, should you turn to make the most of your efforts? Here are the top trends for home remodeling in 2015.
Soaking Tubs: The bathroom is a great place to start your remodel, as updated tile work and cabinetry is trending. Most importantly, though, consider getting away from the standard tub/shower combo. Larger soaking tubs are rising in popularity, especially free standing models. Bigger showers are more popular, too; consider putting in a walk-in shower.
Gray: Beige is no longer the go-to neutral color. Gray is on the rise, and do not be afraid of darker colors. Charcoal is a great neutral color that will make a big impact. Since any accent color can pair beautifully with gray, it is a safe bet in any room in the house.
Sinks: After years of doing dishes, you are probably ready to make the process easier. Super deep single-bowl sinks are trending, making the after-dinner chore a little bit easier on all of us.
Wellness: Fortunately, our awareness about the toxic chemicals and gases in our building materials is on the rise. It is becoming increasingly popular to get rid of cabinets containing formaldehyde and off-gassing finishes so your homes can be as healthy as possible.
If no remodel would be enough to make you happy in your home, contact Betsy Dittman. I have the insider insight into the best real estate in Beverly Hills and Los Angeles and am here to help you find your dream home so you can skip all of the hassle of remodeling. To find a home utilizing the hottest trends that will stay popular in the long-term, call me today.